Below are some of our Trust projects.
Click on each one for more information about it.

---
Faithful & Brave: A Celebration of James Gillespie's High School

Back in 2009 James Gillespie's Trust started talking about commissioning a book about James Gillespie's High School. It has been a bumpy ride with delays along the way, but John MacLeod, award-winning journalist and a former Gillespie's pupil himself, started the mammoth task of research and writing in 2013 .
Now I am delighted to report that the book, Faithful and Brave: A Celebration of James Gillespie's High School has arrived from the publishers, Birlinn. Read more about it on our News & Updates page.
The long awaited book launch took place on Wednesday 14 December 2016 in the Spark Theatre in James Gillespie's High School, followed by refreshments in Brodie's Cafe, where there was the opportunity to buy copies of Faithful and Brave, and John was very happy to sign them.
---
Music CD

An additional exciting Trust project is to record a CD of many of the remarkably talented musicians associated with the school and this project is moving forward in its planning phase. The range of music played by current and former pupils includes classical, jazz and modern – something for everyone!
---
The James Gillespie's Trust £10K Challenge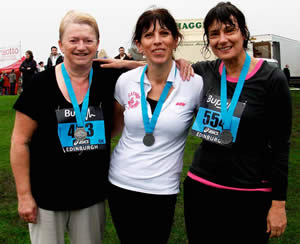 An enormous thank you to all of you who supported the three Trustees and myself in the 2011 BUPA Great Edinburgh Run. Those of you who were sensible enough to stay warm and dry indoors may remember that Sunday 2 October was a very wet day and indeed, as you can see, we did get very wet!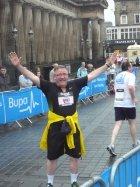 Back trouble prevented Allison from taking part but Jean Cathro, Mimo Caenepeel and I braved the weather and completed our 5K in a respectable 53 minutes and 29 seconds (we had a microchip in our shoes which timed our walk exactly). I think our medals were more for endurance in the face of horrible weather than anything else! Jeremy completed his 10K run in an impressive 1 hour, 11 minutes and 22 seconds … well done Jeremy!
Although money is still coming in, we believe we have raised about £2,500 towards our goal of raising £10,000 this financial year and hope that this will enable us to make progress with the book (see above).
---
"Living Stories" Oral History Project
"Living Stories". A two-year Oral History project to gather, curate and archive the oral history of James Gillespie's School in the Bruntsfield and Marchmont communities of Edinburgh. Our application to support this project has been approved by the heritage lottery fund.
Useful Links