James Gillespie's High School is a vibrant multicultural school and celebrated its Bicentenary in 2003. The school has undoubtedly changed over the years but academic excellence and student achievement are as important now as they have ever been.  
The James Gillespie's Trust aims to support the school and foster strong links between the school, the community and the alumni. The Trust wishes to harness the tremendous goodwill that is felt for James Gillespie's High School to support the work of the school through various educational schemes and community projects. 
Although much of our work involves small-scale projects, we are very proud of the splendid heritage of the school and are developing a unique oral history project, which will become embedded in the future curriculum, to capture the tales of our alumni for posterity.
As trustees, we will work tirelessly with the school and community to promote and encourage excellence in all aspects of school life and we simply ask you to help us in any way you can.
---
Current Trustees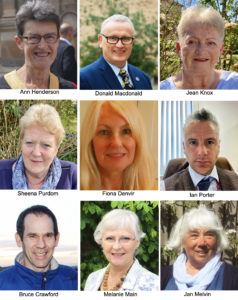 Ms Ann Henderson, Chair ( Former Pupil and Parent of Former Pupil)
Mr Donald Macdonald, (Head Teacher, JGHS)
Mrs Jean Knox, Treasurer (Former Pupil)
Mrs Sheena Purdom, Trustee (Former pupil and Parent of Former Pupil)
Ms Fiona Denvir (Representative of the School Council)
Mr Ian Porter, (Depute Head Teacher, JGHS)
Mr Bruce Crawford (Parent) 
Ms Melanie Main, Vice chair (Local Authority Councillor for the area)
Mrs Jan Melvin (Former Pupil)
---
Useful Links